Michael R. Witiw, PhD
Mr. Witiw brings 30+ years of experience to Aviation Weather Law.
He holds a Master's degree from St. Louis University, and a PhD from the Florida Institute of Technology where he also served on the faculty.
Michael served more than two decades in the United States Air Force, and has worked in numerous global locations such as Europe, Asia, Central America, and the Middle East. His Air Force career included a four-year tour with the Hurricane Hunters, a special squadron charged with tropical storm reconnaissance for the U.S. military.
Affiliations & Certifications
International Civil Aviation Organization, Technical Consultant Programme, roster of experts: Aeronautical Meteorology (2002-2009)
Scientific committee for the 3rd, 4th, 5th and 6th International Conference on Fog, Fog Collection, and Dew Member of the Panel of Reviewers for the Journal of Air Transportation (2004-2009)
Advisory Board Earth System Science Education Alliance (Institute for Global Environmental Strategies) (2006-2012)
Certified Consulting Meteorologist from the American Meteorological Society (Certificate No, 586)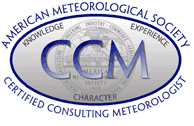 Publications
Bulletin of the American Meteorological Society
Journal of Air Transportation
Atmospheric Research
Pure and Applied Geophysics
Presentations
American Meteorological Society
American Geophysical Union
Conferences on Fog and Dew
Rotary clubs
Michael Fagin
Mr. Fagin has a background in weather forecasting for major expedition groups that climb Mt. Everest and other climbing venues. He is experienced in climate data retrieval and analysis for clients around the world.
Michael provides forecasting services to major engineering firms for environmental studies involving rain events and air quality issues. He is a leading resource on snow forecasts for schools, and mountain weather forecasts for the climb leaders of the Seattle Mountaineers.
He attended the University of Washington to take some classes within the Atmospheric Sciences Department, and continues to attend workshops and seminars offered through the AMS.
Affiliations & Certifications
American Meteorological Society: Associate Member
Past president of the Puget Sound Chapter, American Meteorological Society
National Weather Association member
Publications-Media
Best Rain Shadow Hikes: Western WA
Weekly weather/hiking segment for KUOW (Seattle NPR affiliate)
Freelance travel writer: Wine and Food Travel and The Real Food Traveler
Blogger Fagin's Weather World
Presentations
Seattle Mountaineers
King County Bar Association Aviation Law Section
Washington Defense Trial Lawyers, Chapter meeting
To discuss your needs with weather experts Michael R. Witiw, PhD and Michael Fagin, click here »